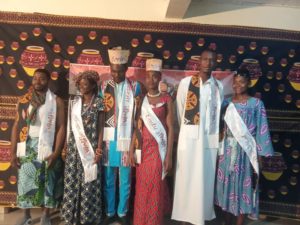 Ils seront 36 (18 ladies et 18 Gentlemen) à concourir pour les prix Ladies and Gentlemen du FIMBA 2018 (Festival international des musiques Bantoues).
Après Yaoundé 2 , 4, 3, 6 et 7, la Commune de Yaoundé 5 a dévoilé Mercredi 31 Octobre 2018 ses 6 ambassadeurs, il s'agit de :
Gent : Feunkeu jude
1er dauphin : Negno'o Alain
2eme dauphin: Eloa Jean Marc Fabrice
La Lady : Konga Christelle
1ere dauphine : Yougang Gloria
2eme dauphine : Mouto ebongo Dorette
Qui sera Lady, qui sera Gent du FIMBA 2018 ? Rendez-vous le 1er décembre à l'esplanade du stade omnisports Ahmadou Ahidjo.
Pour rappel, Le FIMBA 2018 se tiendra du 21 novembre au 1er décembre.
Cet article FIMBA 2018/ Ladies and Gentlemen : Tous les candidats sont connus est apparu en premier sur Culturebene.